Wet peanut peeling machine is to remove the red skin of peanut, and it also can be used for almond, broad bean, soybean and mung bean etc. The peeling rate of this machine can reach 95%, and the peeled peanut is intact. It is widely used for the pre-processing of peanut frying line and other food industries.
Technical parameter
| | | |
| --- | --- | --- |
| Model | ZYC-100 | ZYC-180 |
| Power | 0.75kw 380v 。1.1KW 220v | 0.75kw 380v 。1.1KW 220v |
| Peeling rate | 92%-95% | 92%-95% |
| Capacity | 100-150kg/h | 200-250kg/h |
| Breaking rate | 2-3% | 2-3% |
| Peeling roller number | 8 | 11 |
| Dimension | 1180×720×1100mm | 1180×850×1100mm |
The inner structure
The advantage of peanut peeling machine
The peeling rate is high, and it can reach 95%.
Wide application. It can not only be used to peel peanut, but other beans and nuts.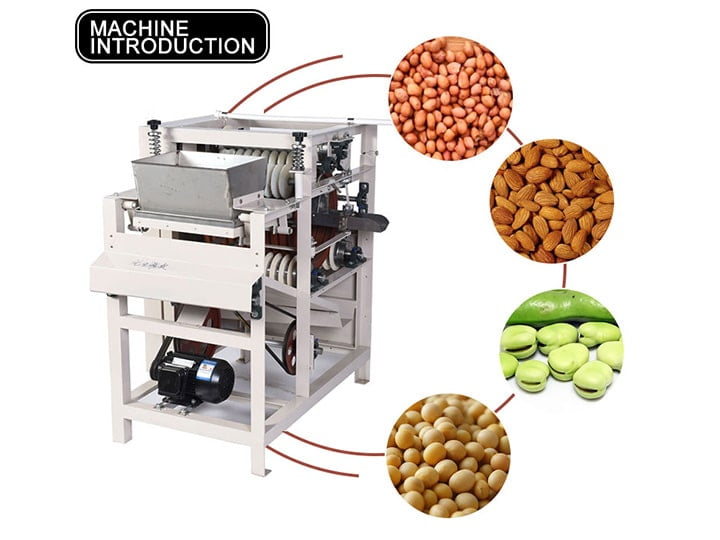 There are two models with different capacities, and you can choose freely according to your need.
The broken rate is low, just 2-3%.
The peeling roller is made of rubber that won't cause damage to the peanut itself.
The peeled peanuts are white in color, and the protein is invariable.
It is easy to operate, and one person is needed.
The working steps of peanut peeler machine
Soak the peanuts in hot water at 90 degrees centigrade, and take them out when the red skin can be rubbed off by hand.
Place the peanut into the peanut peeling machine.
Under the force of the peeling roller, the red skin and inner peanut are fully separated. During the process, you should spray the water onto the peanut, which is good for the peeling.
The peeled peanuts finally come out from the outlet and the red skins are discharged from the back of the peanut peeler machine.
The other way to peel the peanut
In addition to using a wet almond peeler, you also can use a dry peanut peeler machine. There are four models, and its capacity ranges from 200kg/h to 1000kg/h. What the main difference between them is that you need to roast the peanut before peeling. What's more, the working principle and the usage of peeled peanut are different, but the peeling effect is similar.
Technical parameter of dry peanut peeling machine
| | | | | |
| --- | --- | --- | --- | --- |
| Model | Capacity | Dimension | Motor power | Fan power |
| TZ-1 | 200-300kg/h | 1100*400*1100MM | 0.55kw | 0.37kw |
| TZ-2 | 400-500kg/h | 1100*700*1100MM | 0.55kw*2 | 0.37kw |
| TZ-3 | 600-800kg/h | 1100*1000*1100MM | 0.55kw*3 | 0.37kw |
| TZ-4 | 800-1000kg/h | 1100*1400*1100MM | 0.55kw*4 | 0.37kw |