The fried peanut processing machine can not only be used for frying peanuts but also frying other nuts and beans (broad bean). The frying time is adjustable, which truly achieves low energy consumption and high output. The processed peanuts are of high quality and can fully meet customer needs. In addition, the fried peanut processing machine bears stable performance, and the peanuts after frying meet the food hygiene standards.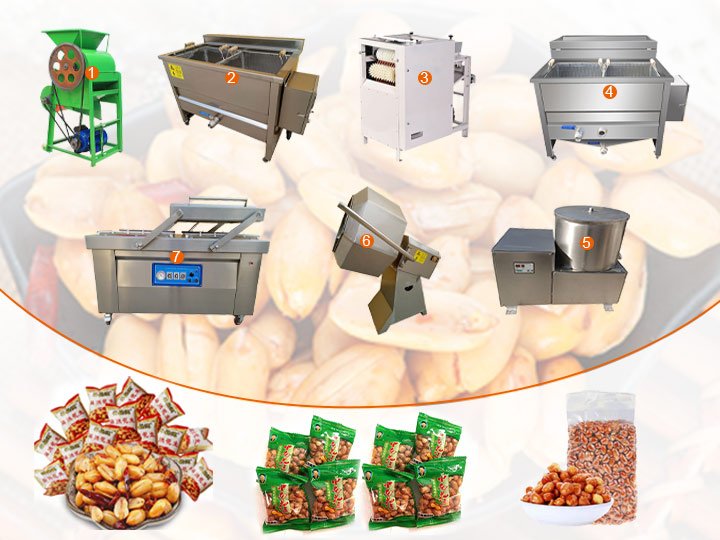 Deep-fried peanuts production machine Overview
Output: 50-500kg/h
Degree of automation: semi-automatic and fully automatic
Heating method: electric heating and gas heating.
Customized or not: yes
Production process: shelling peanuts – blanching peanuts – peeling peanuts – fried peanuts – deoiling – flavoring – the packaging.
The list of the fried peanut processing machine
| | |
| --- | --- |
| Number | Machine |
| 1 | peanut sheller machine |
| 2 | peanut blanching machine |
| 3 | wet peanut peeling machine |
| 4 | frying machine |
| 5 | deoling machine |
| 6 | seasoning machine |
| 7 | packing machine |
What's the working step of the fried peanut processing machine?
---
Fried peanut production line manufacturing steps
Step one: peanut sheller machine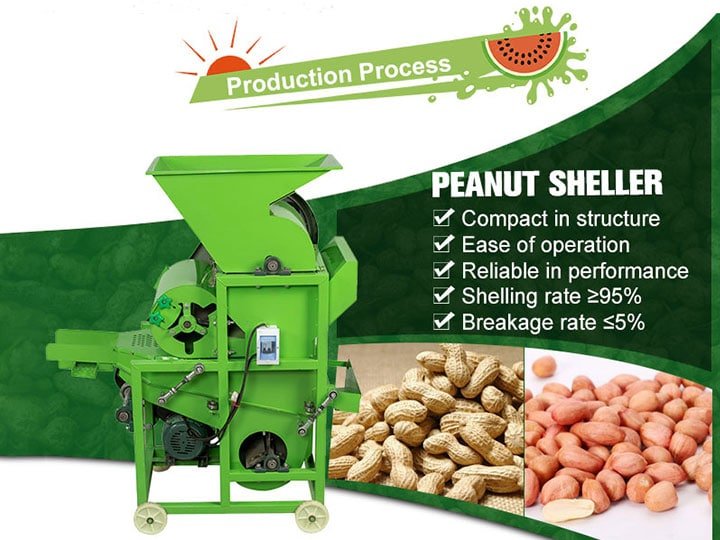 Peanut sheller is to remove the hard shell of peanuts, and its capacity ranges from 200kg/h-800kg/h. The shelling rate of this machine is very high, and the final peanut kernels can keep intact.
Step two: blanching machine
Then we need to use the blanching machine, and you just place the peanut kernels into it for several minutes. The blanching temperature is around 90-degree centigrade. The blanching is finished if you can rub the red skin of peanuts by hand easily. If the raw material is broad beans, you should use cold water to blanch it.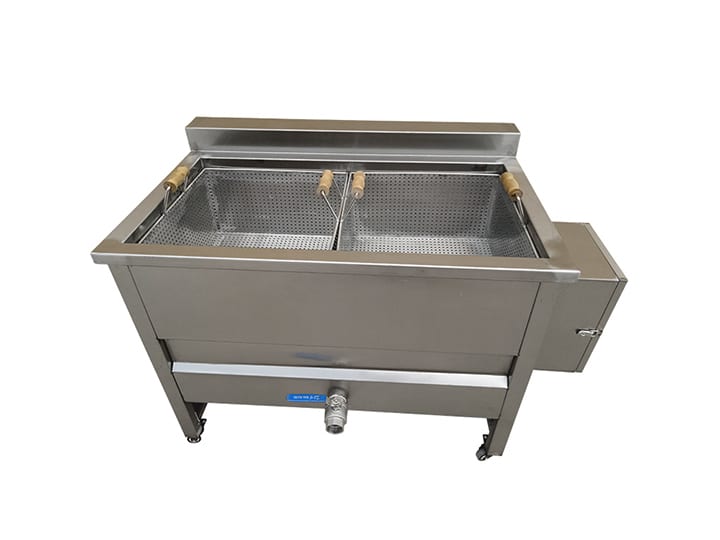 Step three: wet peanut peeling machine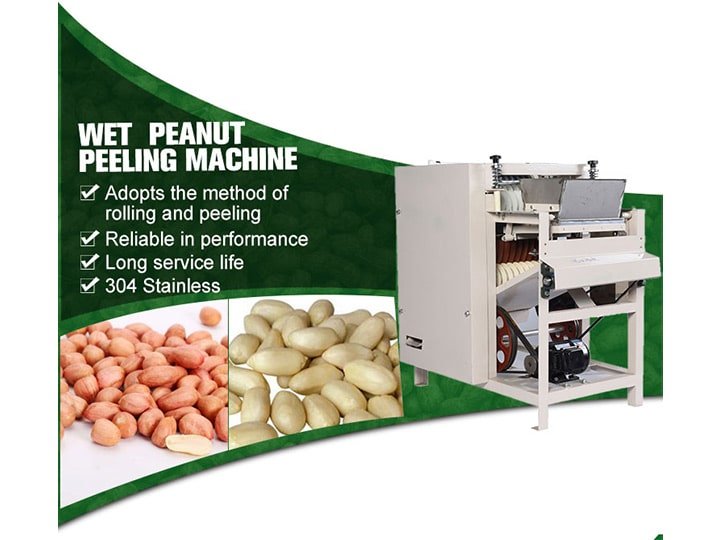 After blanching, the next step is to use the wet peanut peeling machine, and there are two models. The peeling roller is made of rubber that won't cause any damage to the peanuts, and its peeling rate can reach 95%. Finally, the clean peanut and red skin are discharged from a different outlet. In addition, it is easy to operate and just needs one operator.
Generally speaking, there is some water on the peeled peanuts, so it is necessary to dry them for a while before frying.
Frying is an important step in the nut production line. The frying temperature is adjustable, and there is no residue in the machine. The color of peanut is bright after frying Besides, it is easy to clean and the frying machine has a wide range of applications and can be adapted to various foods.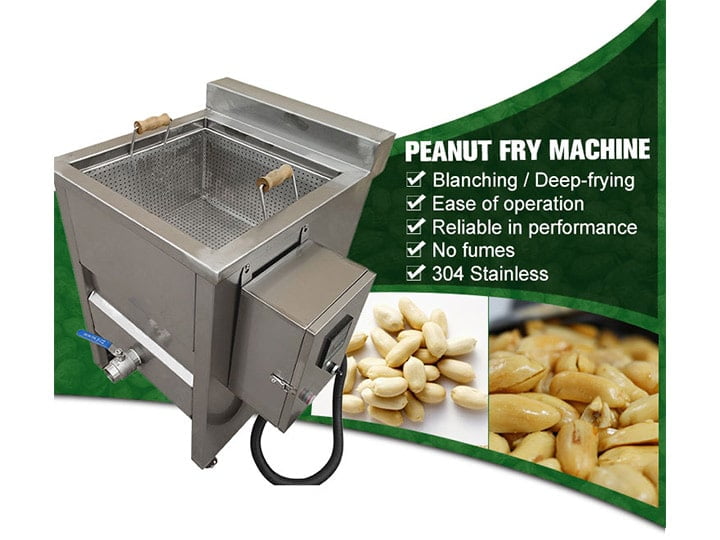 Step five: deoiling machine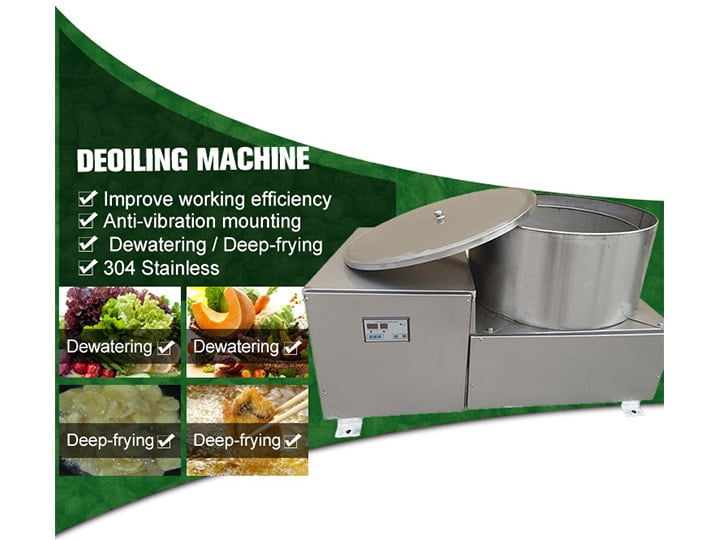 To enable the taste of fried peanuts, we usually use the deoiling machine to remove the extra oil on the surface of peanuts. It uses the principle of centrifugation and can work with high speed. Finally, we can get fried peanuts with less oil content, and such spare oil can be reused.
Step six: Seasoning machine
The different person likes to eat different flavors of fried peanuts, which can be achieved by using seasoning machine. The specially octagonal design is able to spread the seasoning on the fried peanuts evenly. The customers can spread any seasonings they like. What' more, the amount of seasoning can be adjusted by yourself, and it is very easy to do.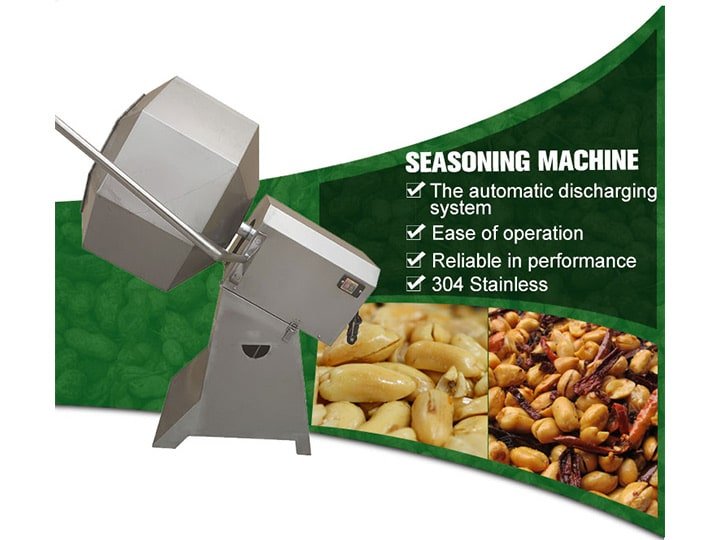 Step seven: packing machine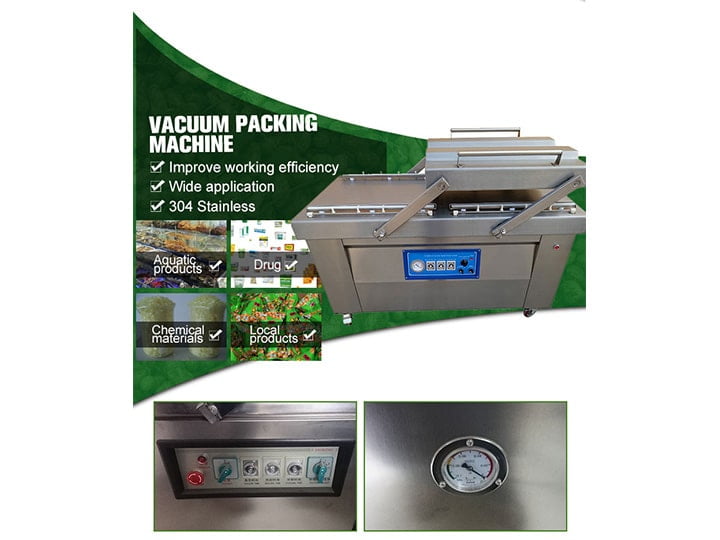 Finally is to use a vacuum packing machine to pack the fried peanuts into the bag. It integrates the air extracting, sealing and packing as a whole, widely applying to the food processing industries. Meanwhile, its vacuum degree is adjustable.
---
Small fried peanut processing line features
1. The semi-automatic fried peanut production line is mainly composed of semi-automatic fried peanut machines. It requires three to five people to operate all the machines.
2. All fried peanut processing machines have a stable structure and are made of stainless steel with long service life.
3. The small fried peanut production machine has a wide range of output. It can achieve 50-500kg/h by replacing a single fried peanut machine with different output.
4. Taizy can customize the peanut frying machine according to the needs of customers.
Automatic peanut frying line advantages
1. The automatic plant composes of automatic peanut processing machines, and it is connected with these peanut machines by a conveyor belt. Therefore, it can be operated by one or two people.
2. It not increasing the degree of automation of the production line, it also increases the production output of fried peanuts. The output range of the automated production line is 300-1000kg/h.
3. This fried peanut production line is not only suitable for frying, seasoning, and packaging peanuts, it is also suitable for frying all kinds of nuts, broad beans, and other raw materials.
4. All peanut processing machines can be controlled by an electric control cabinet, which saves manpower and labor.
5. The machine collocation scheme and placement scheme can be customized according to customer needs.