An automatic popcorn production line is the equipment for the modern production of various kinds of popcorn, which saves time and effort. The puffing technology of the industrial popcorn making machine is an effective combined application of temperature and hot air circulation, with high thermal efficiency, low production cost, high degree of automation, simple operation, environmental protection and no noise. The quality of popcorn of the automatic popcorn processing line is stable, the spherical forming rate is high, the sugar is evenly coated, and the formula is easy to adjust. The taste of the finished product can be adjusted, such as original flavor, caramel flavor, fruit flavor (like the strawberry flavor), coconut flavor, chocolate flavor, etc.
Automatic popcorn production line overview
The popcorn production line adopts the modular design and can be adjusted according to the customer's factory, the production in a variety of ways. This set of popcorn manufacturing machine uses electromagnetic heating, which is energy-saving and environmentally friendly and realizes automatic temperature control, automatic stirring, and automatic discharging. These characteristics of the commercial popcorn production line make the process more convenient and efficient, and greatly reduce the labor intensity of the workers. Diverse types of popcorn can be made to meet different demands, and caramel popcorn, chocolate popcorn, and fruit popcorn are among the popular products.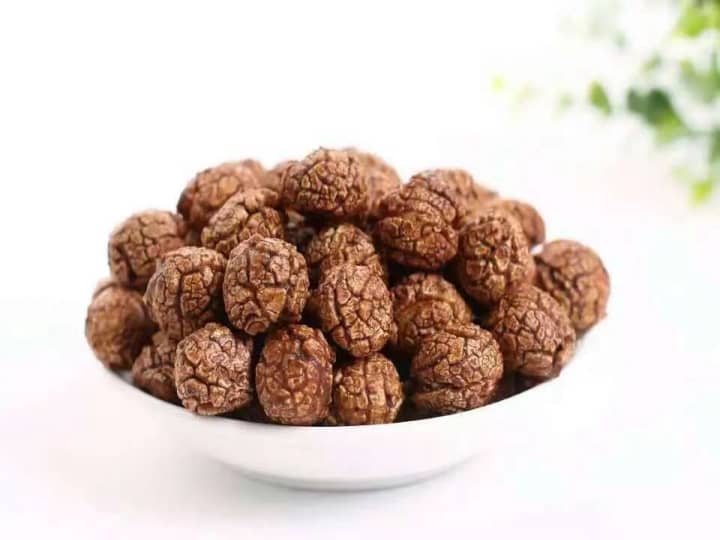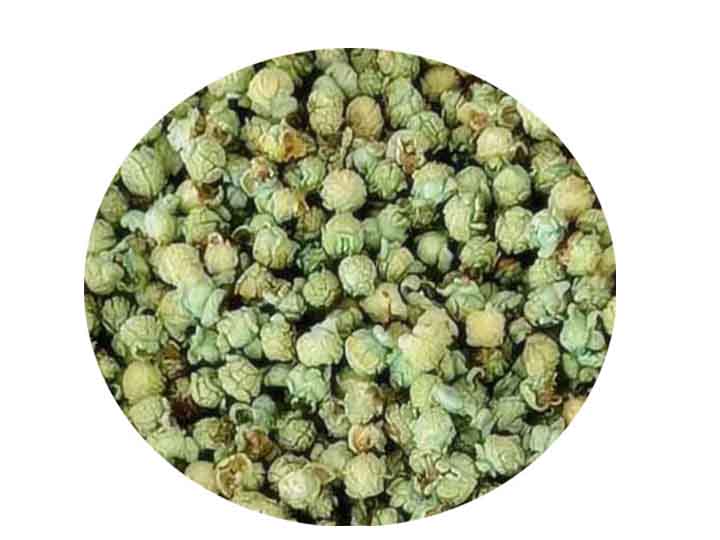 Working videos of automatic popcorn production line
Main machines of automatic popcorn processing line
Processing: Popcorn making machine – Cooling conveyor machine – Rotary drum screening machine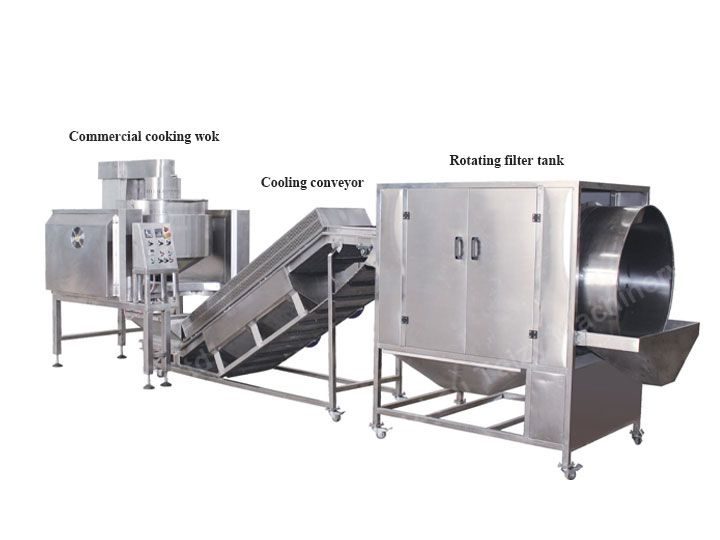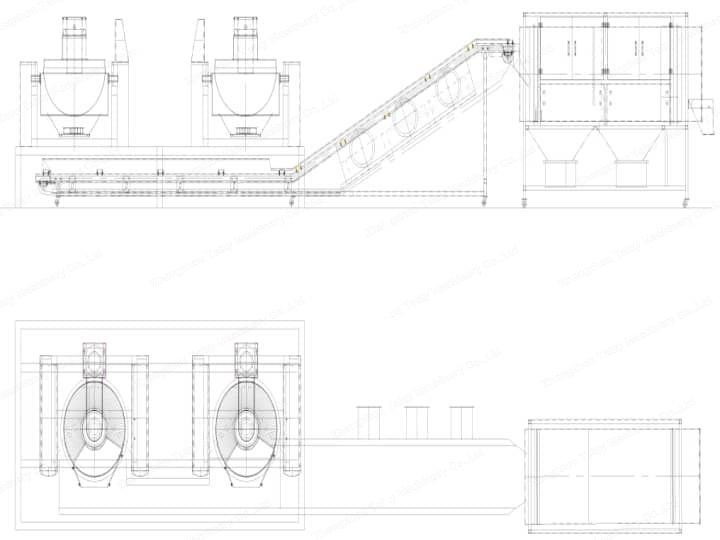 Machine list:
| | | |
| --- | --- | --- |
| Order | Item | Quantity |
| 1 | Popcorn making machine | 2 |
| 2 | Cooling conveyor machine | 1 |
| 3 | Rotary drum screening machine | 1 |
Popcorn making machine
The popcorn manufacturing machine is used to pop the corn raw material in the automatic popcorn production line. The industrial popcorn machine has the functions of automatic temperature control automatic mixing, and automatic discharge. Using electromagnetic heating, it is energy-saving. It can pop 240kg-300kg popcorn each hour.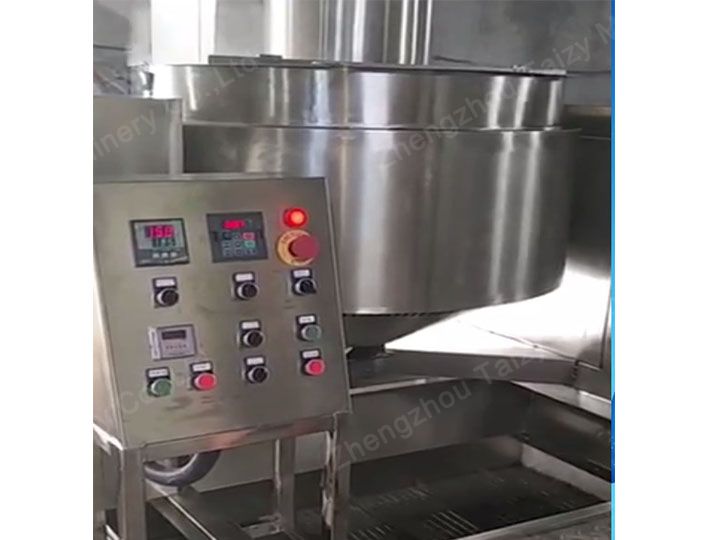 | | |
| --- | --- |
| Machine model | TZ-CZ90XJB-DC |
| Machine size | 1380*1610*1590mm |
| Effective working size | φ900mm |
| Total Weight | 600kg |
| Power | 43kw |
| Electric supply | 380V 50HZ |
Cooling conveyor machine
The cooling conveyor belt carries up the popcorn from the cooking wok to cool it down and convey the popcorn to the rotary drum screening machine. The axial flow fans use a special wind box structure, that can quickly cool the popcorn to set temperature. Conveyor mesh belt is stainless steel plate type with uniformly distributed holes and the mesh belt speed is adjustable.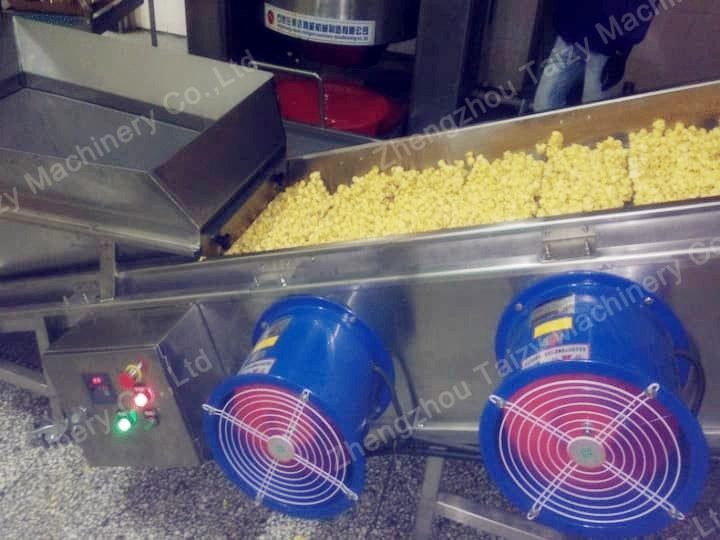 | | |
| --- | --- |
| Machine model | TZ-WS60/700 |
| Machine size | 7200×1050×1610mm |
| Effective working size | 6900×550mm |
| Power | 1.2 KW |
| Electric supply | 380V 50HZ |
Rotary drum screening machine
The rotational drum conveys the material in a spiral way. It can screen out the uncooked corn, corn bran, and other small residues. It uses belt transmission and prevents spinning and slipping during operation.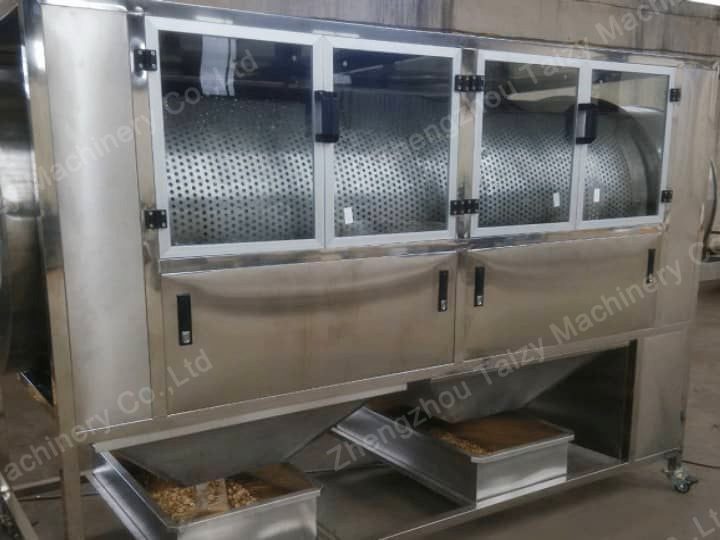 | | |
| --- | --- |
| Machine model | WS90/260 |
| Machine size | 2900×1100×1870mm |
| Effective working size | φ900×2700mm |
| Power | 0.55KW |
Features of industrial popcorn maker machine for sale
1. Beautiful and uniform popcorn shape. Raw materials burst open and puff out, forming a big round ball shape.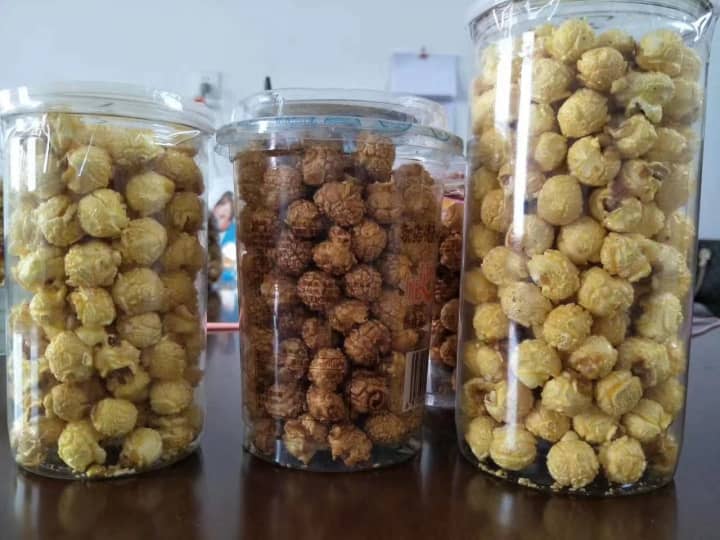 2. The high poping rate of corns. The popping rate is almost 100%. It greatly improves the utilization rate of raw materials, reduces the cost of material, and reduces costs to increase profits.
3. Intelligent control and easy operation. Setting suitable parameters, the automatic popcorn production line can process different varieties of raw materials. The production process needs no manual control. After setting the stirring speed, the popcorn production line will keep a constant speed and ensure consistent product quality.
4. High degree of automation. The output of the automatic popcorn processing line is several times higher than that of the single machine operation, the temperature and time equipment are unified, and the feeding and discharging are completed at one time
5. Highelectromagnetic heat conversion rate and energy-saving. An intelligent heating system avoids unnecessary waste heat, reduces costs, and expands profit margins.
4. Wide use, suitable for diverse raw material varieties. It can reduce the costs of raw materials, and improve the profit.
Industrial popcorn machine price
There are many models and types of industrial popcorn making machines in the automatic popcorn production line, and the prices for different types of products are also different. The cost and process of mechanical products are also important factors that affect the price. Cost includes the sum of a series of inputs, such as labor input for machining, the input of raw materials, the input of technology, and input of transportation costs. We will recommend suitable machines according to the different needs of customers. If customers have special needs, we can provide customized services.
Taizy Machinery is a leading food processing machinery manufacturer with over 10 years of industrial experience. Our company provides a complete series of popcorn making machines and supporting equipment. Meanwhile, we also offer comprehensive and considerate services to each customer. Welcome to contact us for a favorable quotation and professional advice.