Due to the delicious and unique taste, puffed snack food is increasingly popular and has a broad market. Our company has developed a series of professional corn extruder machines and puffed snack production lines to meet the market demand for puffed food production. The corn puff snack extruder can finish working at one time from raw material preparation, extrusion puffing, frying, seasoning, and packaging, with a high degree of automation. The puffed food has a crisp taste, easy to digest, unique fragrance, is easy to carry and is an ideal snack food for consumers. Our corn puff extruder machines have been exported to many countries. A recent example is the 250kg/h corn extruder machine Germany. The whole set of equipment has been arranged for shipping to the country.
Corn puff extruder machine introduction
The corn puff making machine consists of a feeding system, extrusion system, rotary cutting system, heating system, transmission system, and control system. Using advanced screw extrusion and puffing technology, the puff corn machine allows the material to be matured and puffed at high temperature and high pressure, and it is completed at one time. The host adopts variable frequency speed regulation to ensure the stability of the production process.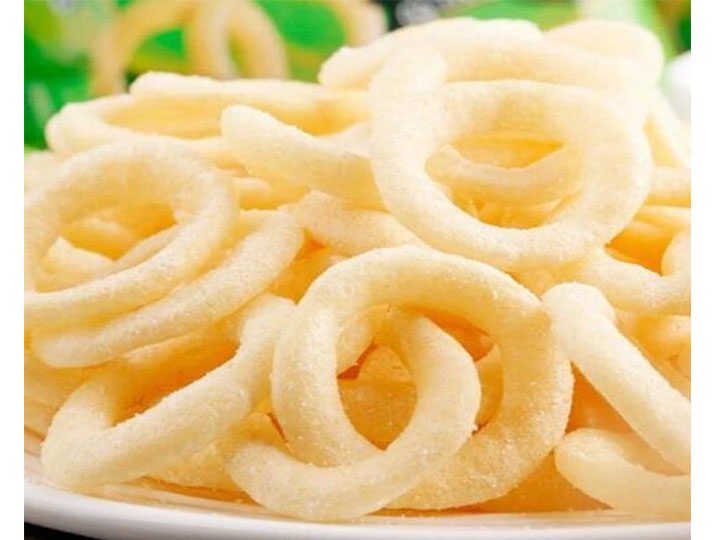 The puffed snack production line has the characteristics of various models, flexible configuration, a wide range of applications, diverse products, and simple operation. The corn puff extruder is suitable for diverse raw materials, such as rice, corn, wheat, and other grains, as well as potato, etc. The colors and shapes of the products are diverse, the appearance is beautiful, and the texture is delicate.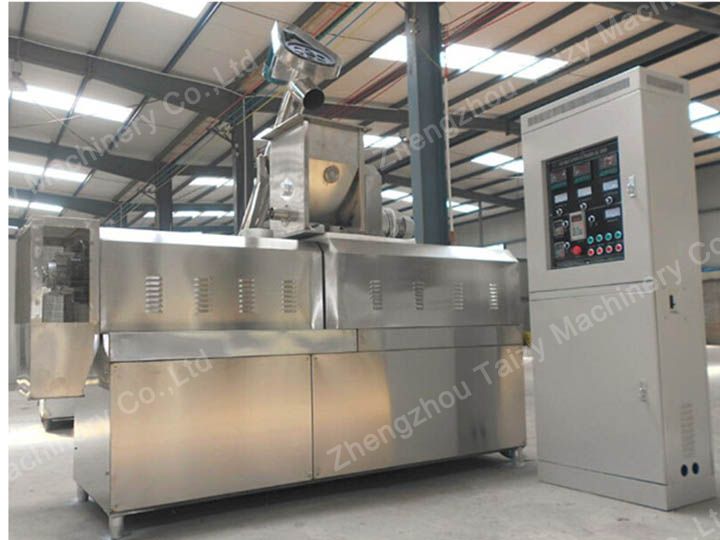 Why choose the twin-screw extruder?
There are two screws in the barrel of the twin-screw extruder that work at the same time and engage each other stably and efficiently. The single-screw extruder is less stable than the twin-screw extruder. However, the narrowing of the extrusion spacing of the single-screw extruder brings a greater extrusion force than the twin-screw extruder, thus adapting to more food production.
The twin-screw corn extruder machine Germany extruder is easier to clean. After the use of the machine, pour the waste materials into the feed port, and use the waste to extrude the remaining material in the screw, so that there is no residue in the screw.
The twin-screw maize extruder machine has the advantages of affordable price, high stability, large output, and easy cleaning. However, it is not suitable for some foods that require high extrusion force. Compared with a single screw, it is more suitable for some foods that require high extrusion force.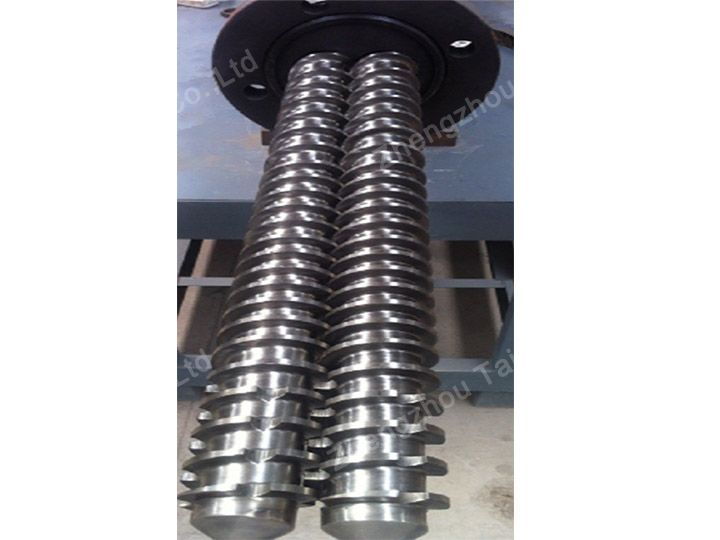 Order introduction of corn extruder machine Germany
This customer is an engineer for a German manufacturer of biscuit products. He is in charge of product development. Because the company now wants to increase product categories and make puffed snacks. The customer considered using corn as raw material to make a specific shape of a puffed corn snack. During the negotiation, our sales manager recommended the matching model to him based on his requirement and provided machine details, parameters, quotations, test video, delivery pictures, etc. Our professional advice, in-time response, and considerate services made the negotiation go smoothly. This german customer placed the order later.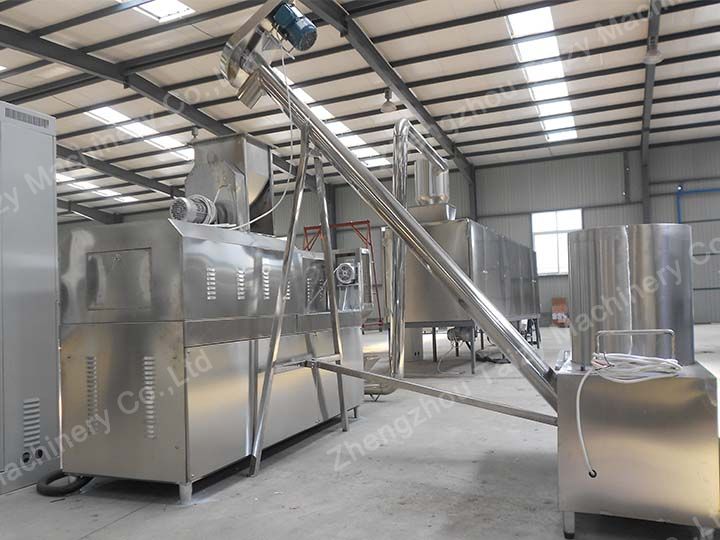 The following is the specification of the Model: TZ-70-II corn puff extruder machine, and the machine list of other machines ordered at the same time in the production line.
| | |
| --- | --- |
| Input Voltage | 380V/50HZ |
| Installed Capacity | 46KW |
| Power Consumption | 30 KW |
| Output | 200-250Kg/h |
| Size | 3.6×1.0×2m |
| Screw Length | 1520mm |
| Screw Diameter | 70mm |
| Main Motor Power | 30kw |
| Heating Power | 2kw*6 12 |
| Feeding Power | 0.75 |
| Cutting power | 0.75 |
| Oil Pump power | 0.37 |
Other main machines in the puffed snack processing line
Order
Machine name
Technical data
1
Mixer
Yield: 50kg/batch
Power: 4kw
Size: 1.0×0.8×1.3m
2
Screw conveyor
Pipe length: 141mm
Power (KW): 0.75
Dimensions(m): 3.0×0.6×2.5
3
Baking machine
Dimensions (m): 5.0×1.3×1.8
Output: 300kg/hr
Drive motor: 0.55kw
Electric heating power: 45kw
4
Seasoning machine
Power: 0.55kw+0.37kw
Drum diameter: 650mm
Roller length: 1900mm
Size: 5.0×0.8×1.9
Besides the above machines, several supporting equipment and additional spare parts were also ordered.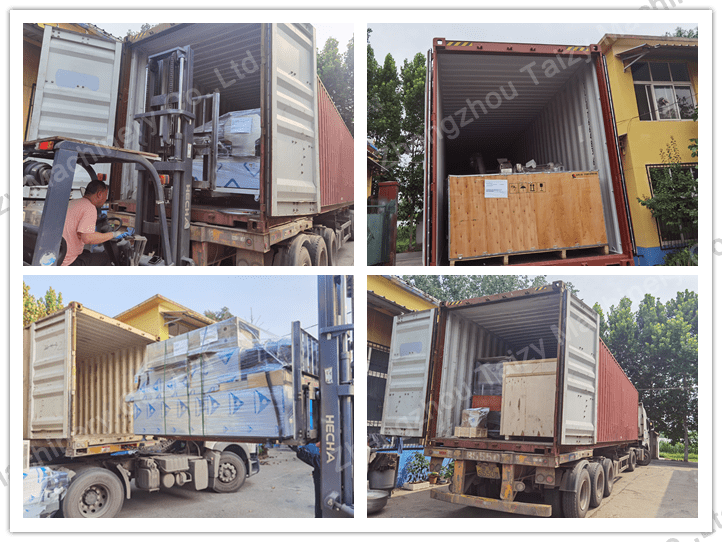 Wide application of corn puff making machine
The corn extruder machine Germany can use corn, rice, millet, black rice, mung bean, buckwheat, oats, and other non-five grains as raw materials, through the forced extrusion of equipment, puffing, molding drying, oil injection, seasoning, and corresponding auxiliary processes. The corn puff making machine is processed into puffed food, sandwich food, nutritional food, puffed snack food, pet food, aquatic feed, and other products with various flavors.
If you have any inquiries about the puffed food machine, welcome to contact us directly.